Regular price
Sale price
$59.99 NZD
Unit price
per
Sale
Sold out
Included:

20 Individual patches

One double-connection cord
Includes Earthing plug & cord. 
We recommend adding a Socket tester to your order to ensure that your power socket is correctly connected to the Earth. 
Additional patches available in packs of 10
Introducing the Earthing Patch Kit, the ultimate solution for allowing locational Earthing. This versatile kit includes 20 individual reusable adhesive patches and a double-connection cord, allowing you to concentrate earthing into a small area.
For best results, simply peel and securely stick one or two patches directly onto your skin near an injury, pain, wound, or area of acute discomfort. Avoid sensitive areas and hair to make removal more comfortable. You can also apply the patches to the soles of your feet or palms of your hands for easy connection.
Once the patch is on, connect it to the cord using the dome connection and enjoy the earthing. The patches can be left on for 2-3 days at a time and reused as long as the gel in the center of the patch is still in contact with your skin.
To connect to Earth, the Earthing plug uses your regular 3-pin house power socket to connect to Earth via your homes/building Earth rod.
Instructions For Use:
Attach 1-2 Earthing Patches to your body and connect the dome connection via the cord
Peel and securely stick the Earthing Patch anywhere on your body you most need Earthing. Avoid hair or sensitive areas, as removing the Patch could be unpleasant.

An excellent place to apply the Earthing Patch is to the sole(s) of your feet in the K1 spot or to the palms of your hand.
Ways To Use The Patches:
Leave The Patch On: A Patch can be left on the skin for 2-3 days at a time. (If you reapply for a new Patch immediately, place it in a different area.) This allows for easy connection to your Coil Cord every time you sit or lay down.

Reuse The Patch: You can peel a Patch off your skin and save it for another time as long as the gel in the centre of the Patch is still in contact with your skin when you put the Patch back on. Once the gel no longer makes contact, throw the Patch away and use a new one.
Always seek medical advice from a medical professional.  
Share
View full details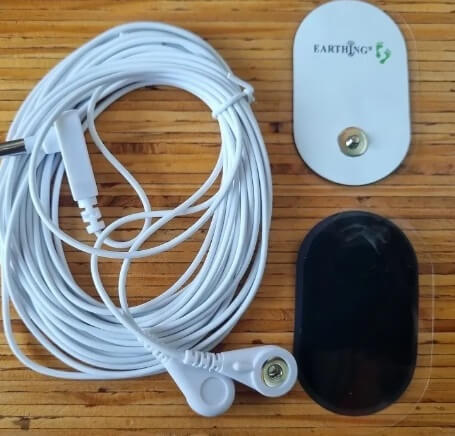 Earthing Patch Kit
This is an excellent product for targeting injury recovery as can be placed close to area of concern. Ease of use and impressive longevity . Highly recommended.
Thank you Rob, yes these patches are great to add into your recovery kit. Great for helping increase blood flow to specific areas. I even put them on if im feeling unwell and just sitting on the couch for 'extra' Earthing.
Thanks for sharing your experience. Happy Earthing - Blake
Very impressed
3wks ago I tore my calf (Grade 2) and small tear in achilles. I was initially given a cast, I didn't take well to a cast so they had me in a moon boot a day later. They said it will take me 2-3mths to recover. I was in alot of pain. I decided to purchase these, plus a splitter and a single grounding mat for my bed. I opted for the rods. The difference that these all have made in my recovery is undeniably so noticeable, I'm so happy I got them. They work so well with the magnesium calcium and DMSO portocol I'm on. I placed 3 pads on my calf and achilles areas plus 24/7 on the grounding mat. I can feel the electricity sparking in my injured leg. After one week my pain was more bearable...and I didn't need my moon boot. All the bruising came out and I had no more need for any painkillers. My back pain subsided and in my third week I am able to put a little weight on my calf, and do some light isometric stretches. I love that I can unplug but leave the pads on for ease of moving around. I just wish there was a cleaning product for the gel pads to make it easier to re-use them and store them again. Apart from that, excellent quality, and they really do aid in supporting the body to heal itself from straight from papatuanuku :).
So natural and so powerful. Amazing review, Thank you.
Thank you on behalf of all future readers of this review who are looking for natural ways to speed recovery and increase health and well-being.
Happy Earthing - Blake